Embracing the power of the cloud has become an unavoidable requirement for success in today's digital era, especially as businesses increasingly migrate their applications to the cloud to drive growth. Gartner predicts that global spending on public cloud services will reach $304.9 billion in 2021, up from $257.5 billion in 2020. By 2024, more than 45% of IT spending will be shifted from traditional to cloud-based solutions. 
Despite such large investments in the cloud, one out of every three organizations fails to reap its benefits. After cloud adoption, 33% of organizations saw no or minor improvement in organizational effectiveness. Cloud migration is a time-consuming and expensive process. So, how do you prevent a cloud project from failing?
The solution lies in careful planning and selecting the best cloud migration strategy for your IT assets. This blog aims to provide you with a better understanding of a suitable cloud migration strategy to assist you in creating a migration path and smoothly transitioning to the cloud.
What is cloud migration?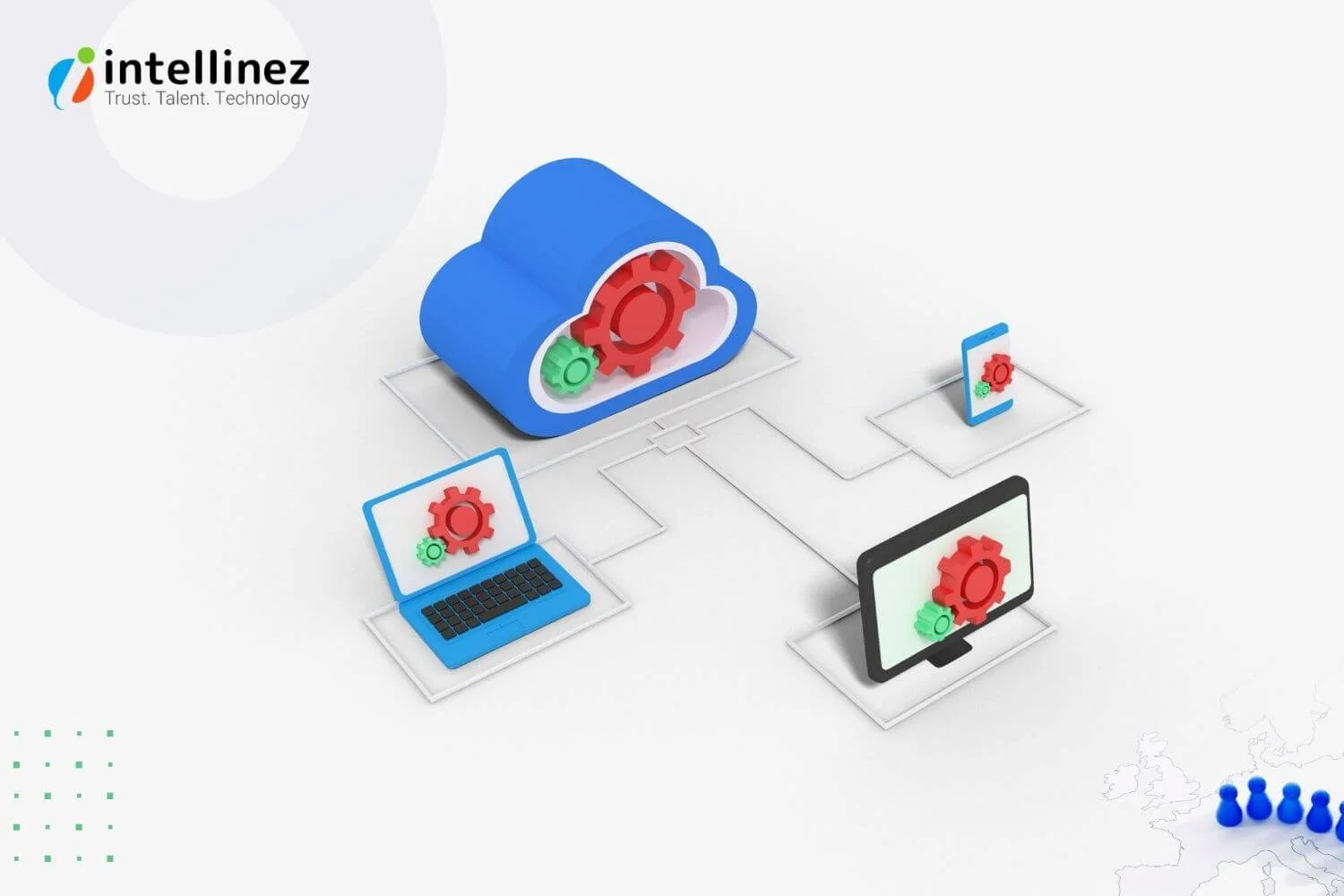 The process of moving digital business operations to the cloud is known as cloud migration. Cloud migration is similar to physical moving, except that instead of packing and moving physical goods, it involves moving data, applications, and IT processes from one data centre to another. Cloud migration, like moving from a small office to a larger one, necessitates considerable planning and advance work, but it is usually well worth the effort, resulting in cost savings and increased flexibility.
The term "cloud migration" most commonly refers to the transition from on-premises or legacy infrastructure to the cloud. However, the term can also refer to a cloud migration from one cloud to another.
What is the process of cloud migration?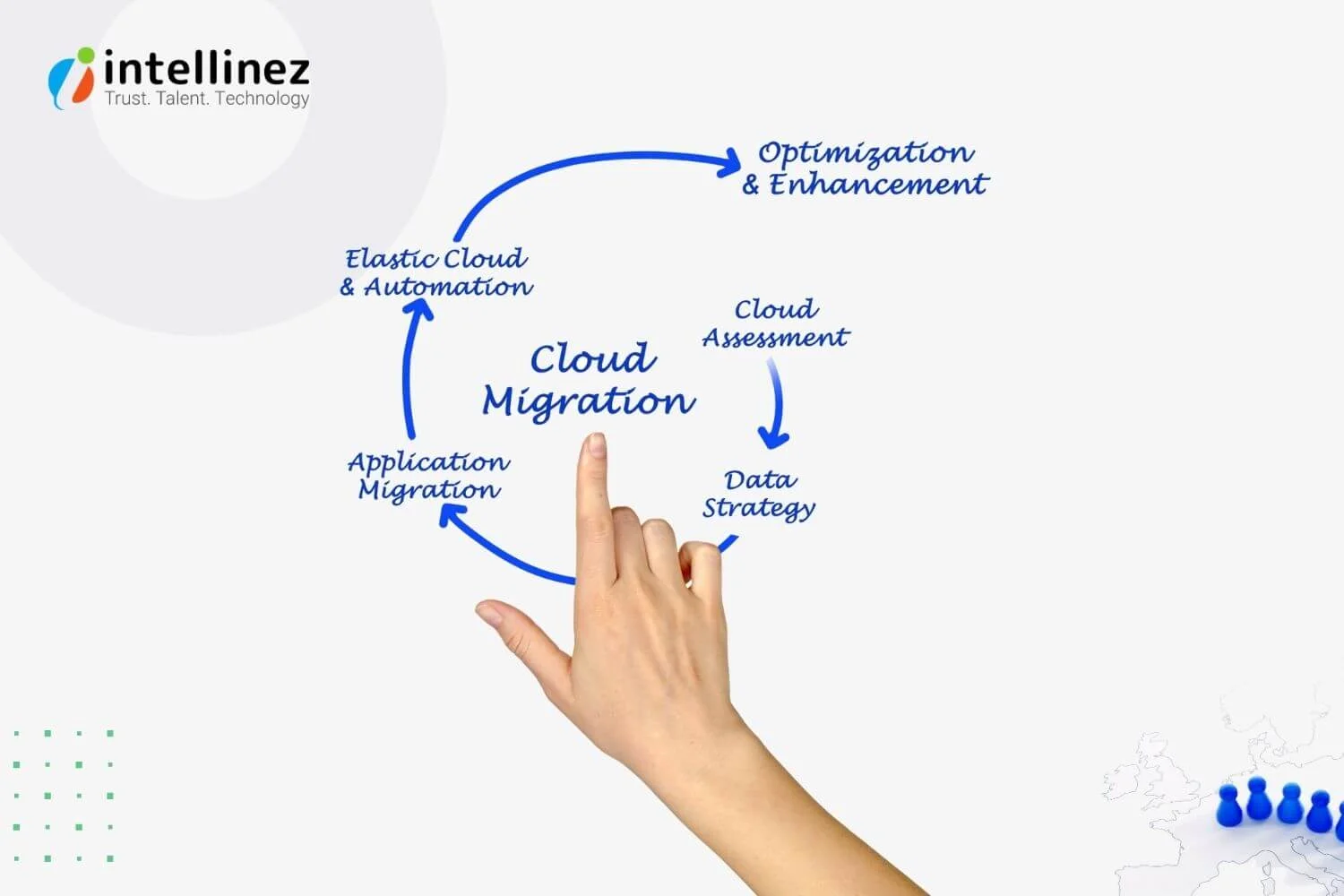 Each cloud desktop is hosted on a server dedicated to your business in secure data centres. In some cases, you will also receive a fully managed, secure, and well-maintained working environment, as well as access to managed IT Support for all of your company's users — no matter where they are. The experience is similar to that of your local machine, but it is faster, more secure, and more reliable.
What Are the Advantages of Migrating a Business to the Cloud?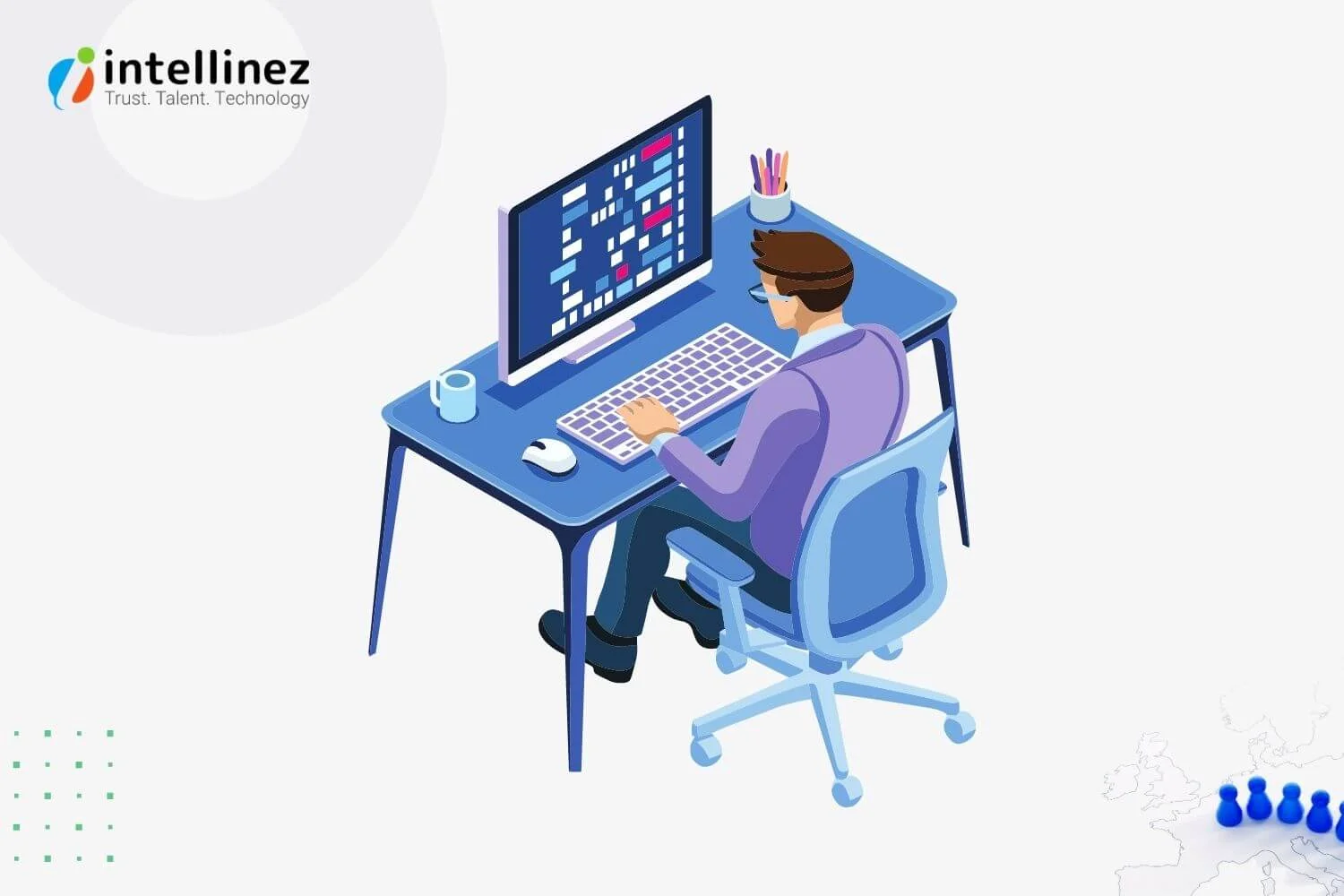 Consider the advantages of migrating your assets to the cloud before making a decision. Will they apply to your company? Examine the list of benefits of cloud migration below to learn how this process may affect the way you work.
Adaptability
When you use cloud-based solutions, it is much easier to grow and maintain (and improve) the quality of your work. Furthermore, it is your cloud provider's responsibility to prepare their infrastructure for your expansion. What's more, your cloud can adjust the level of assets required based on the amount of traffic you're exposed to. In other words, cloud computing allows for instant scalability.
Dependability
Higher reliability goes hand in hand with improved scalability. Clouds are built in such a way that they are (almost) always accessible and ready to use. As a cloud user, you do not rely solely on one server or data centre. As a result, you can expect extremely high SLA, sometimes reaching 100% accessibility!
Automatic backup and disaster recovery
Assist you in ensuring that nothing is lost in the event of a breakdown. Because they store copies of data in multiple locations, clouds are almost impervious to data loss.
Security
Cloud providers typically have better, more breach-resistant security solutions as well as experts at their disposal. Furthermore, as a customer, you are not alone in terms of security and software updates. Cloud providers typically offer the so-called Shared Responsibility Model, in which the customer and provider share responsibility for maintenance and security.
Cost savings
You will gain the ability to adjust infrastructure and costs to your current situation and needs, especially if you choose IaaS (Infrastructure as a Service).
Better Monitoring and analytics have been improved
Monitoring services are frequently built into cloud solutions. You have access to the most reliable data about your infrastructure and maintenance thanks to automatic and standardized logging of key metrics. Even better, most cloud providers will notify you via email or phone about the status of your infrastructure, assets, or breakdown.
Better IT resource management
When you want to change anything in your IT hardware, you must first locate, purchase, and assemble new parts (you, or your IT expert). As a cloud customer, all you have to do is select the appropriate components in the Software as a Service or Infrastructure as a Service models. It makes your processes run more smoothly.
Enhanced mobility
Working remotely and on the move is much easier (and more secure) with the cloud. It has become even more critical since the COVID-19 pandemic. Increased mobility also makes moving your office easier and more flexible for your company.
Cooperation
Cloud computing also facilitates collaboration. Especially for remote teams with workers scattered across the country.
Carbon footprint is reduced
Last but not least, because of economies of scale, cloud providers are frequently greener and have a lower carbon footprint.
What tools are employed during the cloud migration process?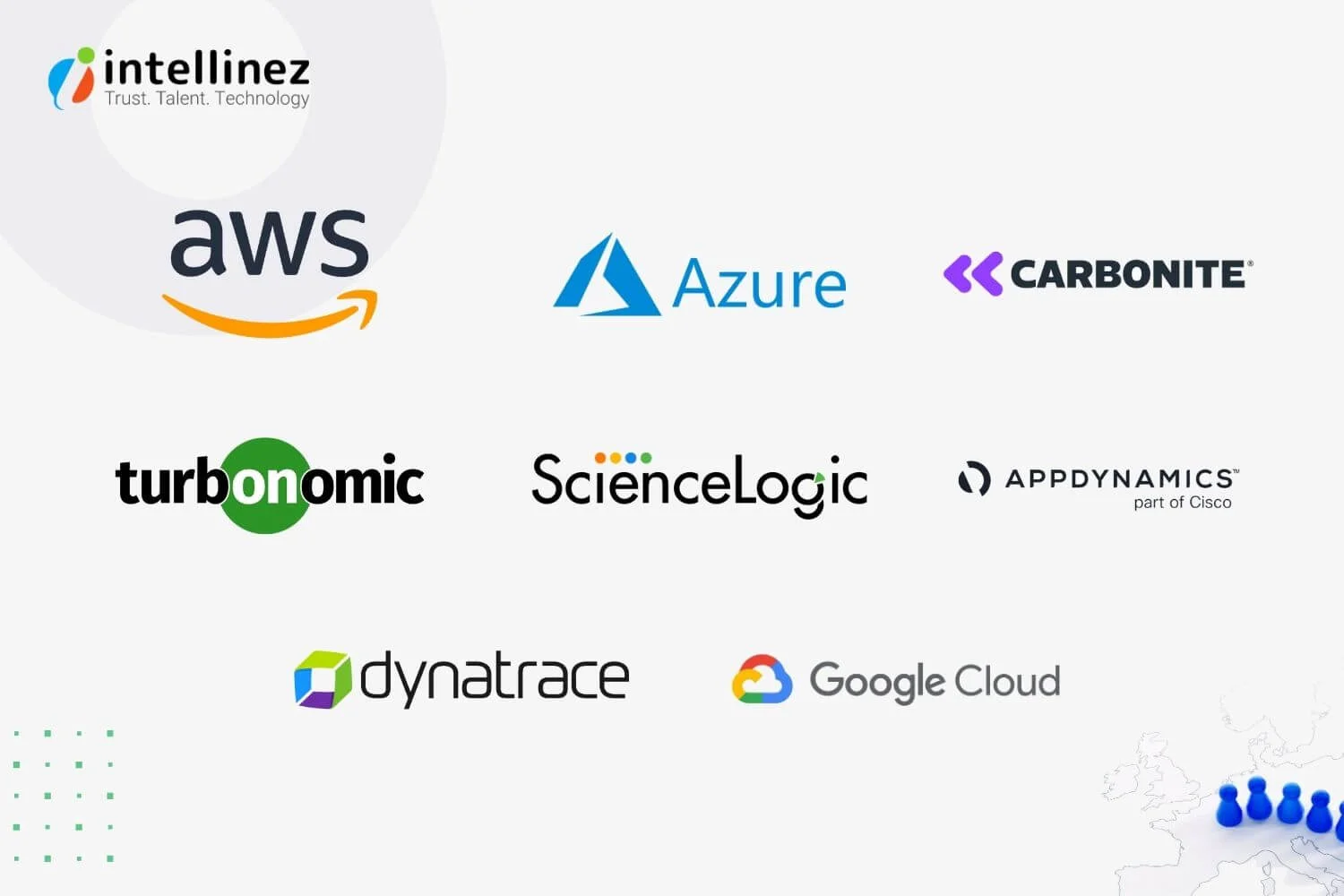 The following is a list of cloud migration tools.
AWS
AWS is the best cloud migration tool, designed to minimize downtime for database-dependent applications. It can perform data replication for a variety of use cases. For development purposes, it migrates data into and out of the cloud. It is constantly monitoring and targeting databases. If an error or interruption occurs, this tool will restart the service automatically. It can perform both homogeneous and heterogeneous database migrations. It offers a wide range of fundamental abstract technical infrastructure and distributed computing building blocks and tools.
Azure
Microsoft Azure is a cloud migration tool that allows you to build, test, deploy, and manage applications and services using Microsoft-managed database centres. It supports SaaS (Software as a Service), PaaS (Platform as a Service), and IaaS (Infrastructure as a Service) (Infrastructure as a service). It also supports a number of programming languages and tools, frameworks, as well as third-party software and systems. It integrates with various tools, manages workloads, and tackles them. One of the primary benefits is the use of end-to-end progress tracking for database and migration servers. Azure creates a central migration hub where teams can begin, execute, and track the migration.
Carbonite Migrate
The Carbonite migrate tool moves data and systems from any combination of physical, virtual, and cloud-based platforms. It employs the AES 256 bit encryption algorithm to ensure security. It's simple to automate and orchestrate migration configuration. It can scale continuous replication with little impact on performance or bandwidth. It cuts downtime to minutes or seconds as you transition to the new server. It ensures the consistent replication of data, files, and system settings. It reduces the risk of data migration by establishing a structured and repeatable data migration process.
Turbonomic
Turbonomic is a tool for hybrid cloud migration that monitors and optimizes workload. It employs simple intelligence to deal with complex hybrid clouds. It employs standard components such as resource consumption mapping so that the team can see what is happening with their data. It provides visibility to all workflows through the use of visual tools. Turbonomic improves compliance by utilizing a proprietary policy engine.
ScienceLogic
ScienceLogic creates IT management software for IT operations and cloud computing. It is an automated cloud migration tool that provides teams with complete visibility into their cloud migration process. It has an easy-to-use interface for analyzing large amounts of data. It oversees the interaction between the storage environment and the infrastructure components. It monitors the application's health so that users can be sure that any risks are identified as soon as possible.
AppDynamics
It is yet another tool for cloud migration. It primarily focuses on managing the application's performance and availability across cloud computing environments as well as within the data centre. It provides real-time application monitoring. It detects issues quickly so that they can be resolved and ensures the application's security. AppDynamics offers end-user monitoring to assess performance and provide effective customer support. It also provides complete visibility for network and container management.
Dynatrace
Dynatrace is a cloud migration tool that offers a software intelligence platform based on artificial intelligence for monitoring and optimizing the performance of applications, infrastructure, and user experience for businesses and government agencies worldwide. It's used to map and monitor application, microservice, and container orchestration platforms like Kubernetes, as well as IT infrastructure in multi-cloud and hybrid cloud environments. It also offers full-stack solutions to reduce cloud complexity and accelerate cloud migration.
Google Cloud
Google Cloud is yet another cloud migration tool created by the Google Suite. Google cloud is a collection of cloud computing services that run on the same infrastructure that Google uses for its end-user products such as Google search, Gmail, file storage, and YouTube. Aside from that, it offers a variety of modular cloud services such as computing, data analytics, data storage, and machine learning. It offers real-time streaming for workloads and migration.
Who Are Major Cloud Service Providers?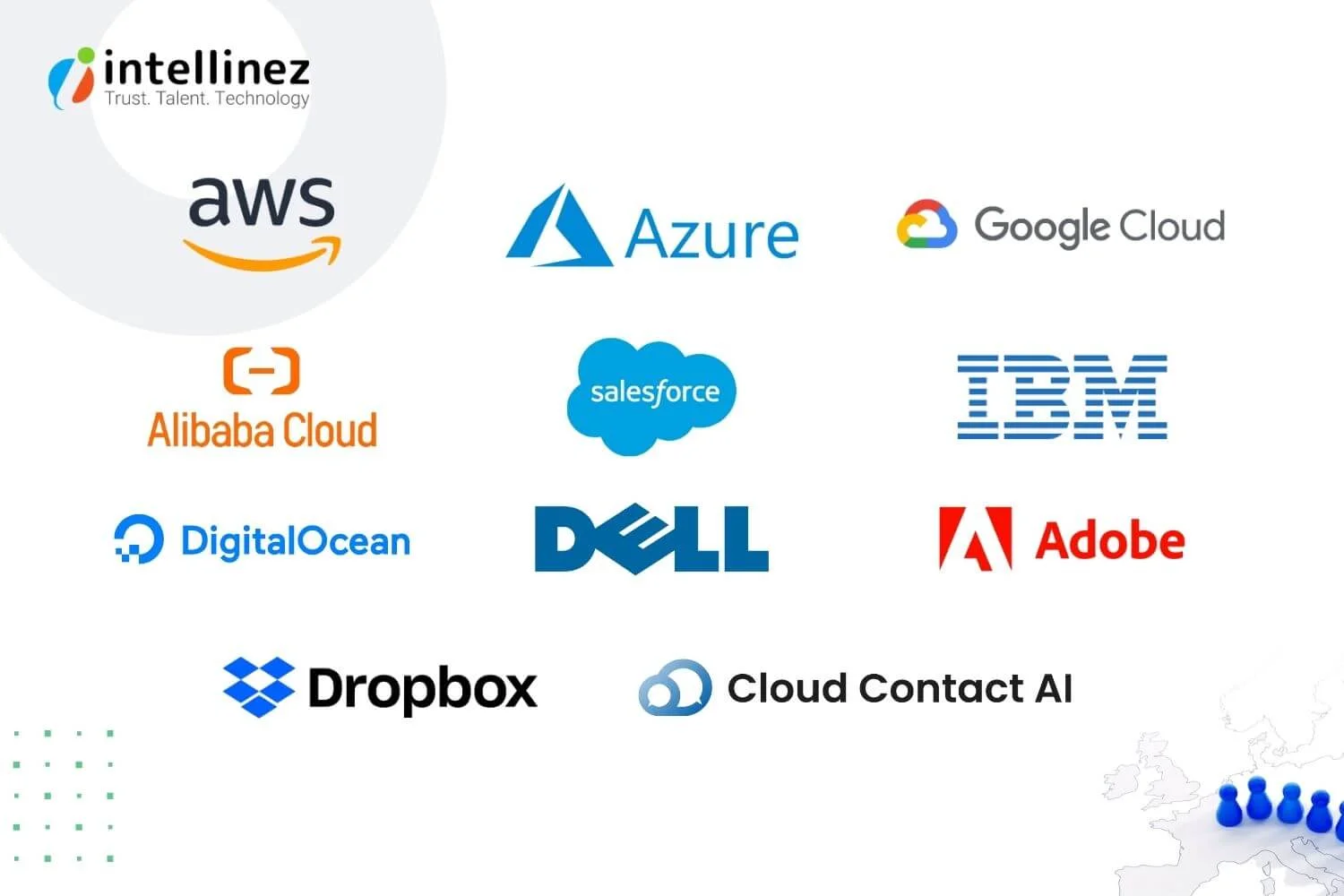 Amazon Web Services (AWS)
With over 200 integrated features and services, Amazon Web Services (AWS) is the world's leading cloud vendor. AWS provides a free tier that allows you to test various services for free and without making any commitments.
AWS controls more than 30% of the cloud market, with 77 Availability Zones and 24 geographic regions.
Microsoft Azure
Microsoft Azure, like AWS, provides a plethora of on-demand computing services designed for efficient cloud building.
Azure provides four types of cloud computing services: infrastructure as a service (IaaS), platform as a service (PaaS), software as a service (SaaS), and serverless computing.
Google Cloud Platform (GCP)
The Google Cloud Platform (GCP) is a collection of services that run on the same infrastructure that powers Google Search, YouTube, and a number of other tech behemoths.
Alibaba Cloud
Alibaba is a global cloud leader with an emphasis on security and artificial intelligence. The Alibaba Cloud is the world's second-largest cloud service provider, powering nearly half of China's 4.97 million websites.
Salesforce
Salesforce provides cloud-based CRM, customer service, marketing automation, and sales, among other services. Their suite of customer relationship tools can assist you in understanding a data-driven approach for your business.
IBM
IBM combines PaaS and IaaS to provide a comprehensive cloud experience. IBM, like AWS and Microsoft Azure, offers a plethora of services to assist in the simplification of many software development tasks.
Digital Ocean
Digital Ocean is intended to meet the needs of developers for deploying and scaling applications that run concurrently on multiple computers. Digital Ocean, the world's third-largest hosting company, has two primary product offerings: compute and storage.
Dell
Dell technology combines the power of VMware software with the infrastructure of Dell Technologies to provide an integrated multi-cloud approach. Dell's core offering as a hybrid, multi-cloud provider revolves around storage and data protection.
Adobe
Adobe Creative Cloud, in contrast to the other vendors, focuses on the creative sector of cloud computing. Adobe's Software-as-a-Service (SaaS) offering includes a variety of tools for graphic design, video editing, photography, and more.
Dropbox
Dropbox is a powerful cloud storage solution for businesses of all sizes that allows them to store files and documents on a remote cloud server. Dropbox users can access their saved data or content from any device that has an internet connection.
CloudContactAI
CCAI's all-in-one integrated SMS platform is designed to help businesses send text messages in bulk. Use artificial intelligence to have two-way conversations with your customers in real time via voice, email, SMS, or MMS.
The Phases Of Cloud Migration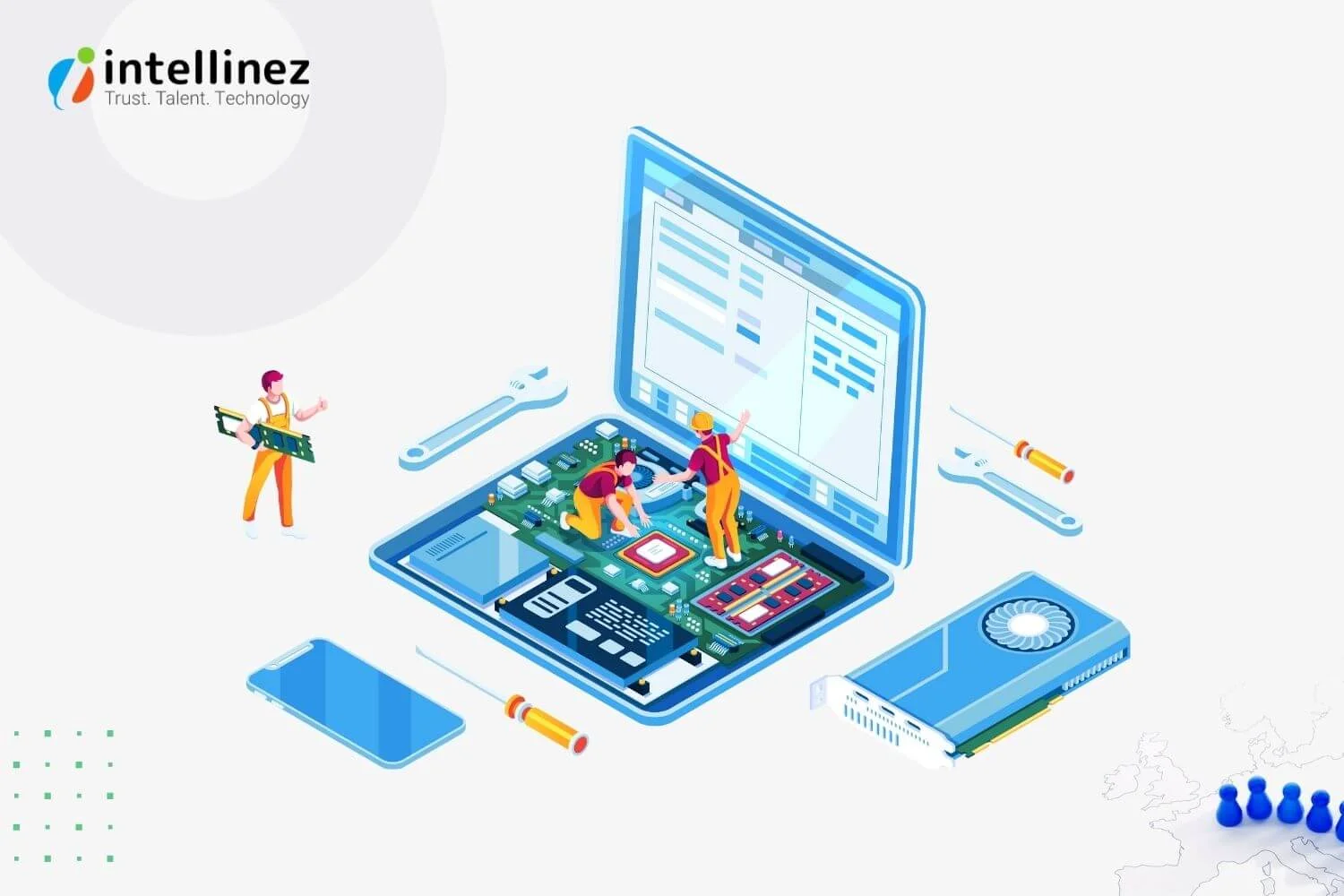 We can identify 4 main components of cloud migration journey:
Let's get started!
Evaluation and analysis
One of the first steps in cloud migration is to assess the current data centre environment and its readiness for a transition to a cloud architecture. Using automated tools to collect data can significantly accelerate this process.
To properly plan your migration, you must first identify which workloads will be migrated and which cloud computing model will best meet your needs. Always make sure to properly weigh your options. Is public cloud the best option for you, or is private or hybrid cloud better suited to your business needs? Each model has its own set of advantages and disadvantages. Gather your team and carefully consider your options.
Planning and designing
Once you've determined your existing IT infrastructure, the workloads you want to migrate, and the cloud model you'll use, it's time to start auditing vendors. This is undoubtedly one of the most difficult aspects of this stage. Finding the right cloud vendor for your business can be difficult with so many options available. Here are a few things to consider when selecting a cloud provider:
Security and compliance
Dependencies on services
Performance and dependability
Assistance with migration
The risk of vendor lock-in and the exit strategy
Determining your migration and deployment options is also an important part of the planning phase. The best way to maximize efficiency is to base your migration timeline and methods on your organization's DevOps life cycle.
Migration
It is now time to put all of your plans into action and get started. Each type of application necessitates a distinct migration procedure. While some applications can be easily migrated to a cloud service model, others, particularly legacy applications, necessitate significant software transformation. In the case of legacy applications, we strongly advise you to assess whether moving them to the cloud is even possible. We can identify four main migration approaches based on the type of application:
Replicate on-premises apps in the cloud without having to redesign them.
Create and deploy app images, followed by app installation.
Before migrating apps to the cloud, optimize them for cost and performance.
Use cloud native architectures (e.g., microservices) to rewrite application source code.
Another important aspect of successful cloud migration is automation. What is the point of migrating to the cloud in the first place if you aren't looking for high levels of agility and cost efficiency? Here are a few levels of automation that we suggest you to implement:
Use automated scripts to scale your application up and down based on usage needs, or invest in a tool like Artifakt that handles scaling your application up and down based on usage needs.
Automate app maintenance and updates.
Automate governance by automating time-consuming and repetitive tasks, as well as consumption control.
Optimize
You're finished now that you're in the cloud, right? Wrong! Your work does not end here. Your next steps should be to smooth out any post-migration rough edges and optimize your deployment processes. The main motivation for cloud migration is to do more with less. Keep track of usage and traffic to effectively reduce costs. Don't forget that cloud technologies are evolving and improving at nearly the speed of light. To maximize your cost and workload efficiency, keep up with all new improvements and iterations.
Challenges Of Cloud Migration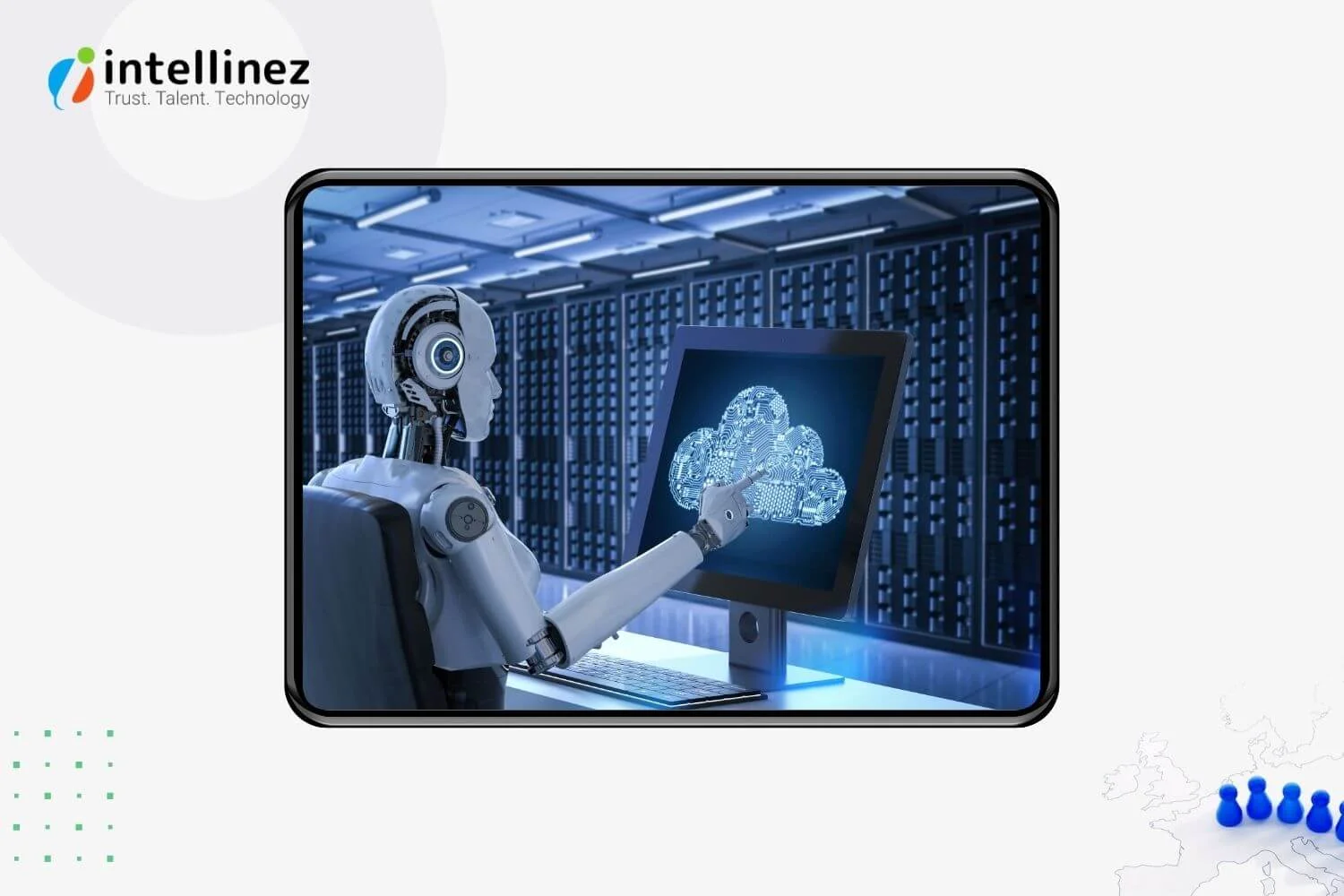 Cloud migration can provide significant benefits, but it is not without its challenges. Let's take a closer look at the top five challenges that businesses face when migrating to the cloud.
Lack of a cloud migration strategy
Businesses migrate to the cloud to take advantage of increased service availability, scalability, or any of the other advantages that the cloud promises. However, fully utilizing the cloud necessitates careful design and planning to ensure that an organization has chosen the cloud best suited to its use case. Public, private, and hybrid cloud deployments, for example, each have advantages and disadvantages, and different cloud providers and cloud distribution models (SaaS, PaaS, IaaS, and so on) are optimized for specific use cases.
A cloud migration strategy should describe the goals of the cloud migration and how success will be measured. Based on these objectives, cloud services can be chosen, and a migration strategy can be devised.
Existing architecture is complicated.
Cloud migration entails transferring data storage and applications from on-premises to cloud infrastructure. This is often done in stages to ensure that each step is completed successfully before moving on to the next.
If an organization already has a complex IT architecture, developing and implementing a cloud migration strategy may be difficult. Certain systems may require colocation to provide high-quality services, and a complex architecture may make it difficult to identify and document interdependencies, as well as develop a phased strategy for moving certain components or systems to the cloud.
Prolonged migration procedure
Cloud migrations are not a simple process. Migrations are frequently performed in stages, with extensive testing and validation between each stage of the process.
The pace and smoothness of the cloud migration process are influenced by the quality and depth of the cloud migration strategy. A lack of or ambiguous strategy can lead to further time spent figuring out the process along the way, as well as work that must be repeated multiple times to get it right.
The longer the cloud migration process takes, the higher the cost and effect on the company. Infrastructure costs rise during the iterations of the cloud migration process because the company pays for both on-premises and cloud infrastructure.
Expensive cloud costs
Cloud services can be expensive. In some cases, an organization looking to move to the cloud to reduce IT infrastructure costs may discover that the cloud is actually more expensive than an on-premises data centre. Inadequate research and planning frequently leads to sticker shock during or after a cloud migration.
If an organization lacks visibility into its IT infrastructure and how it is used, cloud service consumption – and the costs associated with it – may exceed expectations. Similarly, failing to conduct adequate research on a cloud provider's policies may result in unexpected billings or fees. An extended migration process can also increase costs if systems remain in an intermediate state for an extended period of time.
Careful planning can provide visibility into, and even mitigate, cloud costs. A thorough understanding of an organization's IT solutions and their requirements can aid in forecasting cloud consumption. Furthermore, this can aid in the optimization of cloud infrastructure and the reduction of cloud costs.
Risks to data security and compliance
Data security and regulatory compliance are major concerns as organizations migrate to the cloud. Data and applications hosted in the cloud must be as secure as those hosted on-premises, and some cloud deployment models are better suited to this than others.
A company, for example, may share servers and other infrastructure with other cloud customers in a public cloud deployment. Data leakage or other security incidents could result from vulnerabilities in the underlying servers or the isolation of the virtual machines (VMs) hosted on these servers. Furthermore, an organization may lack visibility into where its data and applications are hosted, which can be problematic under some data privacy laws, such as the GDPR.
The 6 R's of Cloud Migration Planning
Rehost
Assume you want to migrate your on-premises Oracle database to an AWS EC2 instance with minimal effort. Then rehosting is the solution for you! It's one of the quickest and easiest cloud migration strategies because it doesn't require any code changes.
This "lift and shift" pattern transfers data assets from on-premises infrastructure to cloud infrastructure, and is commonly used for large-scale migrations. Furthermore, it improves the cloud's speed and performance at a lower cost. Rehosting can be automated with tools like CloudEndure Migration and AWS VM Import/Export, but manual implementation is also an option for gaining cloud maturity.
Despite these numerous advantages, you may be unable to fully utilize features such as ephemeral compute and autoscaling. Due to incompatibility with cloud environments, legacy and resource-intensive apps may also experience latency issues.
Cordant Group moved its IT operations to AWS, saving up to 50% on infrastructure costs.
The Cordant Group, a leading securities and facilities management company in the United Kingdom, had a large IT infrastructure to support a variety of business operations. Moving from on-premise CapEx to cloud-based OpEx could save 40-50% on costs. It successfully migrated their entire IT operations to AWS cloud, including multiple websites, client desktop services, and SQL databases, using the 'lift and shift' approach.
Case Studies
Rehost if you are:
transferring a large-scale enterprise
brand new to the cloud
transferring off-the-shelf applications
migration with a time constraint
Replatform
This strategy of 'lift, tinker, and shift' is a modified version of rehosting. You can replatform apps to make a few configuration changes to better suit the cloud environment without changing their core architecture. This approach is commonly used by developers to modify how apps interact with databases so that they can run on managed platforms such as Google CloudSQL or Amazon RDS.
However, it is critical that you review your project at regular intervals so that it does not become a complete refactor. The key is to avoid making unnecessary changes to address this risk.
Pinterest increased non-peak infrastructure capacity by 80%.
When Pinterest reached over 250 million customers and served over 1,000 microservices with different infrastructure layers and tools, it migrated from AWS's legacy cloud to the next-generation cloud computing system. The microservices were moved to Docker containers powered by Kubernetes using the 'lift, tinker, and shift' approach. As a result, it reduced the engineers' instance hours and made it more cost-effective.
Case Studies
You can use Replatform if:
migrate under time constraints
utilise the cloud's advantages without refactoring the app
migrate a complex on-premises app to the cloud with minor changes
Refactor/Re-architect
The refactor or re-architect method entails completely rewriting your applications to make them cloud-native. This strategy enables you to fully utilize cloud-native technologies such as microservices architecture, serverless, containers, function-as-a-service, and load balancers. When migrating digital assets from an on-premise monolithic architecture to a fully serverless architecture in the cloud, for example, you can refactor assets. Even in the most competitive markets, these refactored applications are scalable, agile, and efficient, and they provide long-term ROI.
This approach is the costliest, most resource-intensive, and time-consuming of the three, but it will be the most beneficial in the long run. Other challenges you may face include a lack of cloud skills, the delivery of complex projects and programmes, and potentially significant business disruption. The key is to prioritize smaller chunks of your monolithic application as microservices, which you can then refactor. To avoid disruption, allow legacy applications to run on-premises while you fix up in the cloud.
Netflix has seen an 8X increase in streaming members.
When Netflix experienced major database corruption for three days in 2008, it decided to migrate to the cloud. Netflix chose AWS as the cloud provider to re-engineer all of their technology and fundamentally change the way they operate. High reliability, horizontal scalability, and cloud-based distributed systems were critical to their success. It took them years to complete the refactoring, but it proved to be the best approach for them. It now has eight times the number of members it did in 2008 and is a global OTT platform with a presence in 130 countries.
Use Cases
Refactor should be used if:
The cloud will benefit the application the most.
There is a strong business incentive to improve scalability, speed, and performance.
An on-premise app is not cloud-compatible.
Repurchase
The "drop and shop" strategy, also known as repurchase, replaces the on-premise application with cloud-native vendor-packaged software. Moving to a SaaS (Software as a Service) application with the same capabilities is common. In practice, this means dropping the existing on-premise licence and starting a new licence agreement with the cloud provider for their solution. The newer, upgraded cloud version provides a better value by increasing efficiency and saving money on app storage and maintenance.
Moving from on-premise CRM to Salesforce or Hubspot, for example, or migrating your built-in CMS to Drupal. This method is simple, quick, and eliminates a significant amount of migration effort.
Repurchasing may present challenges such as training your staff for the new software or vendor lock-in. In comparison, SaaS platforms provide limited customizability and control. You may feel the sting of losing a custom-tailored on-premise solution.
By switching to Amazon RDS, Airbnb saved at least one operational position.
During their AWS migration, Airbnb transitioned to Amazon RDS and dropped MySQL. Complex procedures such as replication and scaling were difficult to carry out with MySQL. Amazon RDS automates and simplifies many of the time-consuming administrative tasks connected with databases. As a result, the engineers will be able to devote more time to development. And the entire database was migrated to Amazon RDS in just 15 minutes.
Use Cases
Repurchase should be used if:
You are replacing software for common functions such as finance, accounting, CRM, HRM, ERP, email, CMS, and so on.
A legacy app is incompatible with the cloud.
Retire
The Retire strategy involves getting rid of applications that are no longer needed or productive for your IT portfolio. If an application is deemed unsuitable for cloud migration, it can be removed or scaled back. It enables you to investigate all of your applications in terms of their applications, dependencies, and cost to the company. There is no migration, so it is a rather passive strategy. According to Stephen Orban of AWS, when migrating to the cloud, up to 10% of an enterprise IT portfolio is no longer useful and can be turned off.
Though it may appear simple, decommissioning apps is a complex process that is critical in determining which apps to retire. It should be done early in the planning process so that pivotal applications or services can be migrated, the scope of applications to migrate is reduced, and resources are saved.
Consider the following when retiring applications during cloud migration:
Applications containing useful data should be archived.
To save money, retire applications with redundant capabilities.
Retire apps with functionality that can be added to another via microservices.
By retiring 209 application environments, Autodesk improved its user experience and security.
During its migration to AWS, Autodesk retired some applications in order to increase efficiency, resilience, and automation through large-scale migration and modernization. It retired 209 application environments, reducing the attack surface, and migrated 239 apps at a cost-effective rate of 97%. Overall, the enterprise improved its business outcomes, reduced costs, provided a better end-user experience, and strengthened security.
Use Cases
Use Retire, if:
An app has become redundant or obsolete.
A legacy app is no longer cloud-compatible and provides no productive value.
You make the decision to refactor or repurchase an app.
Retain
Retaining, also known as re-visiting, is the process of revisiting some critical applications/portions of your digital assets that require significant refactoring before migrating them to the cloud. You may eventually discover that some applications are better suited to on-premise deployments or have recently been upgraded and should be kept. In other cases, applications are kept because of latency requirements, compliance or regulatory constraints, or simply because it is not cost-effective.
Organizations frequently use retention in hybrid cloud deployment to ensure business continuity during lengthy migrations. Johnson & Johnson and Hess Corporation, for example, built a hybrid cloud environment to support their ongoing AWS migrations. It provides cloud benefits while keeping critical workloads and confidential data on-premise.
Use Cases
Retain is useful if:
During migration, you use a hybrid cloud model.
You've made a significant investment in on-premise applications.
A legacy app is not cloud-compatible but works well on-premises.
You decide to come back to an app later.
Conclusion
Now that you've become acquainted with the various cloud migration strategies, you're ready to plan and execute! Don't forget to think about costs, security, scaling requirements, timeline, expertise, and your business goals when developing your migration strategy. A successful migration requires proper guidance and meticulous planning.
Hire Intellinez For Your Cloud Migration Needs
Intellinez has guided several companies through the complexities of cloud migration, and we live by these best practises to help you make the transition from legacy systems to the cloud. Reach out to us to know more.