In today's rapidly evolving digital landscape, businesses of all sizes rely heavily on information technology (IT) to drive growth, innovation, and operational efficiency. However, the persistent IT talent shortage poses a significant challenge, particularly for small and medium-sized businesses (SMBs). 
This blog by the experts from Intellinez Systems aims to explore the impact of the IT talent shortage on SMBs and provide strategies to overcome this hurdle. By understanding the importance of IT specialists, diversifying the talent pool, leveraging e-learning platforms, and streamlining the hiring process, SMBs can position themselves for success in the digital age.
Strategies for SMBs to Overcome the IT Talent Shortage
1. Understanding the Significance of IT Specialists in Business Settings
IT plays a pivotal role in the operational and strategic aspects of modern businesses. From customer service to project management, accounting to supply chains, and marketing to innovation, almost every function relies on some form of software or digital infrastructure. 
Without a talented pool of IT professionals, businesses face challenges in adapting to new markets, embracing innovation, and driving growth. This highlights the importance of IT specialists in meeting business objectives, and digital business transformation and discusses the potential risks associated with the IT skills gap. This also highlights the role of IT specialists in technology transformation.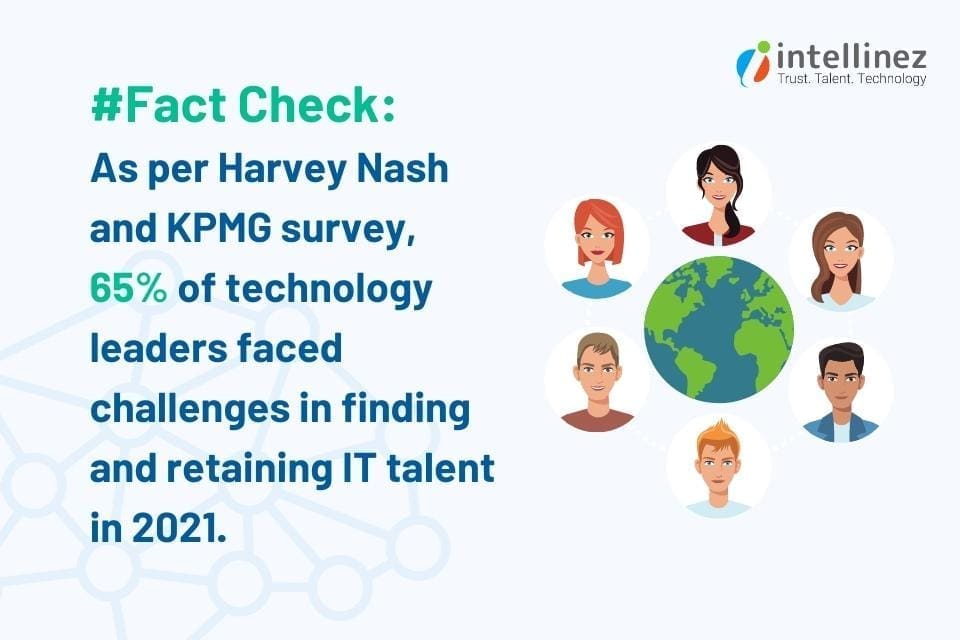 The demand for IT talent continues to grow, with an increasing number of organizations recognizing its critical role in driving business success. According to a survey conducted by the IT outsourcing company Harvey Nash and auditing firm KPMG, 65% of technology leaders reported that they struggled to find and retain IT talent in 2021. This statistic reflects the pervasive nature of the IT skills shortage and its impact on businesses of all sizes.
2. Upskilling Existing IT Talent
One strategy to address the IT talent shortage is to invest in upskilling IT staff. While IT professionals may not possess all the necessary specializations, providing them with skill development training, opportunities for career growth and expanding their skill sets can be a viable solution. 
Upskilling not only improves employee retention but also fosters a committed, productive, and agile workforce. By nurturing in-house talent, SMBs can build project-ready teams capable of meeting tight deadlines and driving business value. Moreover, upskilling IT staff helps SMBs stay ahead of technological advancements and leverage the latest tools and technologies.
3. Diversifying the Talent Pool
Traditionally, the tech industry has been dominated by males aged between 25 and 55. However, diversifying the talent pool is crucial for SMBs to address the IT skills shortage effectively. Research indicates that a significant percentage of young women possess digital skills, yet they may lack confidence in securing IT jobs.
By actively seeking talent from underrepresented groups and considering candidates with transferable skills, SMBs can tap into a wider talent pool and unlock the potential of creative and innovative individuals. Initiatives such as Sadiq Khan's program to develop underrepresented black men in London exemplify the proactive approach SMBs can take to recruit diverse tech talent.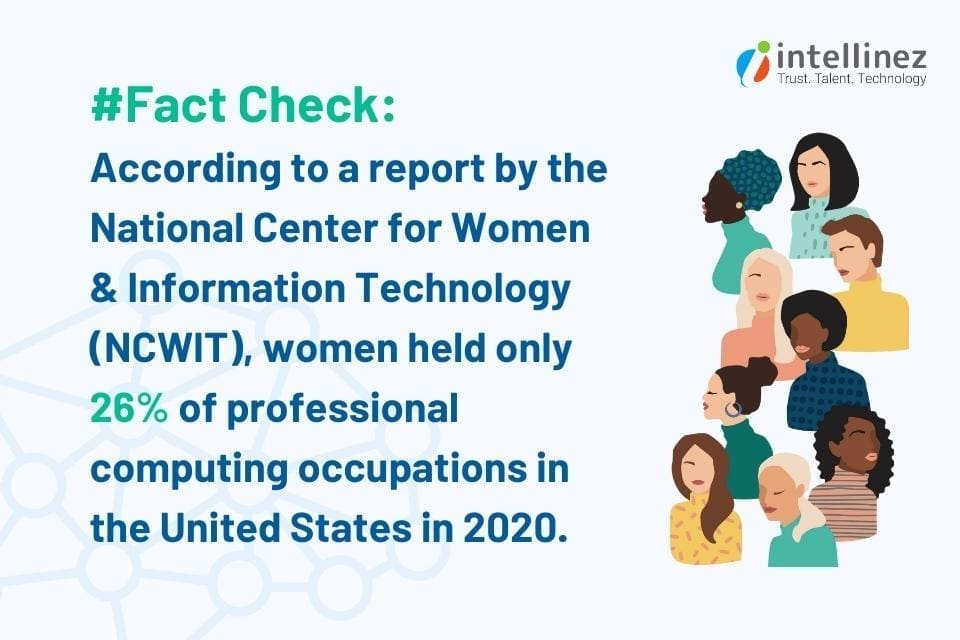 According to a report by the National Center for Women & Information Technology (NCWIT), women held only 26% of professional computing occupations in the United States in 2020. This statistic highlights the underrepresentation of women in the IT industry and the untapped potential that SMBs can harness by actively promoting diversity and inclusion in their hiring practices.
4. Taking Advantage of E-Learning Platforms
E-learning platforms offer a unique opportunity for SMBs to bridge the IT skills gap and access top talent. As the e-learning industry continues to thrive, businesses can leverage these platforms to provide specialized training and relevant upskilling courses to prospective IT professionals.
Compared to traditional university courses, e-learning courses offer cost savings, flexibility, and access to experienced professionals. By either partnering with existing e-learning providers or establishing their own e-learning databases, SMBs can identify and recruit talented individuals who have acquired skills 0and knowledge through these platforms.
5. Streamlining the Hiring Process
The hiring process can be lengthy and resource-intensive, which can deter SMBs from actively seeking IT talent. However, streamlining the hiring process can significantly improve efficiency and attract top candidates. SMBs can leverage online platforms, social media, and specialized job boards to reach a wider audience of IT professionals. Additionally, using applicant tracking systems (ATS) and automation tools can streamline candidate screening, evaluation, and selection processes, saving valuable time and resources.
6. Managed IT Support Services Can Fill the Gap
For SMBs with limited resources or unique IT needs, partnering with a managed IT support services provider like Intellinez Systems can be a cost-effective alternative to in-house hiring. Managed IT support services offer access to a team of skilled IT professionals who can provide technical expertise, maintenance, and support tailored to the specific needs of the business. According to a survey by Deloitte, 72% of organizations reported outsourcing IT services to reduce costs and gain access to specialized skills.
Tech Talent Shortage Statistics
To further emphasize the severity of the IT talent shortage, let's explore some relevant data and statistics:
According to the World Economic Forum, the global technology industry could face a shortage of 4.3 million skilled workers by 2030.

In the United States, the Bureau of Labor Statistics projected a 11% growth in computer and information technology occupations from 2019 to 2029, leading to the creation of approximately 531,200 new jobs.

A report by LinkedIn revealed that software engineering roles, data science roles, and network administration roles were among the most in-demand tech jobs in 2021.

The Information Systems Audit and Control Association (ISACA) estimated a global shortage of two million cybersecurity professionals by 2022.
Conclusion
The IT talent shortage presents a significant challenge for SMBs seeking to thrive in the digital age. However, by adopting strategies such as upskilling existing talent, diversifying the talent pool, leveraging e-learning platforms, streamlining the hiring process, and considering managed IT support services, SMBs can overcome the skills gap and position themselves for success. 
By addressing the talent shortage proactively, SMBs can gain a competitive advantage, unlock innovation potential, and achieve long-term growth in the digital economy. With careful planning and implementation of these strategies, SMBs can navigate the IT talent shortage and build a strong foundation for future success.
Reach Out to Intellinez Systems to Overcome the IT Talent Shortage in Your Organization
Intellinez Systems provides a solution to the IT talent shortage with our Managed IT services. Our team of skilled professionals offers technical expertise, tailored support, and cost-effective solutions. By partnering with us, your organization can bridge the skills gap, ensure efficient IT operations, and focus on core business objectives, driving growth and success in the digital landscape.