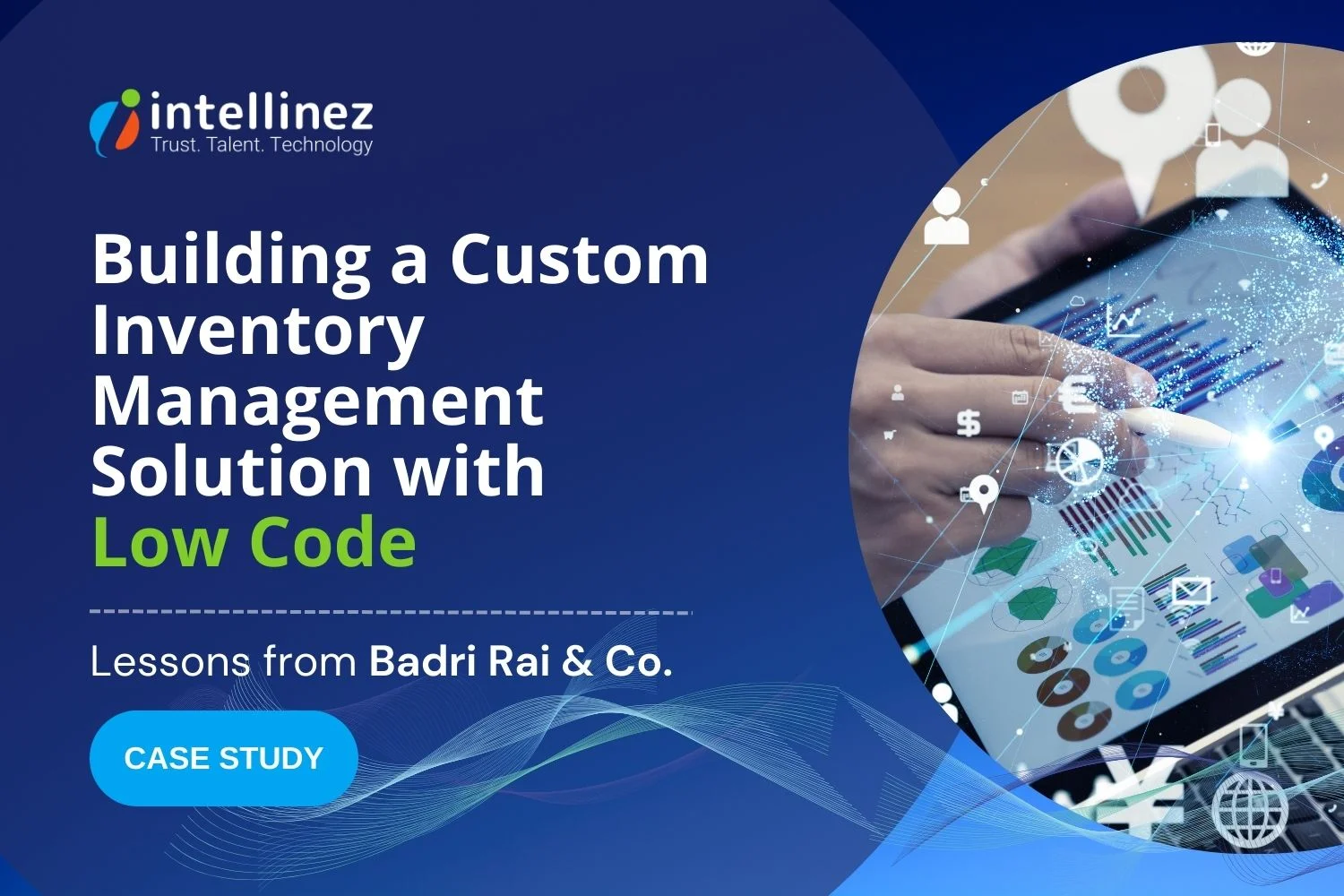 Introduction: Overview of the Project
This case study entails the development of a software system to track fuel inventories for Badri Rai & Company across its multiple warehouses. The objective was to prevent fuel theft, record fuel purchases, and automate the input data related to stock transfers and purchases. The lead project engineer, solution architect, and solution developer collaborated to develop and implement the application, utilizing Zoho Creator as a starting point, within the allocated timeframe.
Additionally, an inventory management system was designed as an iOS/Android friendly mobile app. The resulting portal offers client access to reports, dashboards, and a Unified Interface, with a comprehensive view of their fuel inventory, usage, and purchasing costs. This project offers valuable insights into the challenges, outcomes, and operational procedures of managing fuel inventory for construction companies in India. By incorporating various security measures and authority fields into the final solution design, the team minimized theft along with other challenges. By using low-code development with Deluge and Zoho Creator Ultimate, and following the Agile Development practices, the project was completed within the given budget and timeframe.
Client Overview: Badri Rai & Company
Badri Rai & Company (BRC) is a Construction Company based in the North East region of India, with extensive experience in large-scale government infrastructure projects. Established in 1975, BRC specializes in Industrial and Petrochemical, Civil and Infrastructure, and Building sectors. BRC's commitment to quality and timely completion of projects is reflected in its ISO 9001:2015 and ISO 14001:2015 certifications, which adhere to strict international standards for quality management and environmental management.
The Challenges: Inventory Oversight and Theft
One of the key challenges faced by the BRC team was the persistent issue of fuel theft, which was the driving force behind the development of this user-friendly system. Manual record-keeping using MS Excel sheets was not sufficient, and a computerized system was required. Incorporating various checks and fields of authority into the final architecture of the solution was another challenge. The project required the application to be available on Web and Mobile devices within 4 – 6 weeks, which would have never been possible using the traditional development process.
The Solution: Our Customized Solution for Fuel Inventory
The project team developed a customized fuel inventory management system to address the client's requirements. Zoho Creator's low-code technology was used to create a user-friendly and automated platform on web and mobile for monitoring fuel inventories across multiple warehouses. The end result delivered both reports and dashboards, allowing analysis of fuel stock, consumption, and expenses, as well as simplifying the process of collecting data from multiple warehouse managers. The project was completed within the specified timeframe, thanks to the client's management support and our team's comprehensive approach to requirement analysis and solution design.
Below are screenshots of the Web-friendly Interactive Dashboard we created for our client.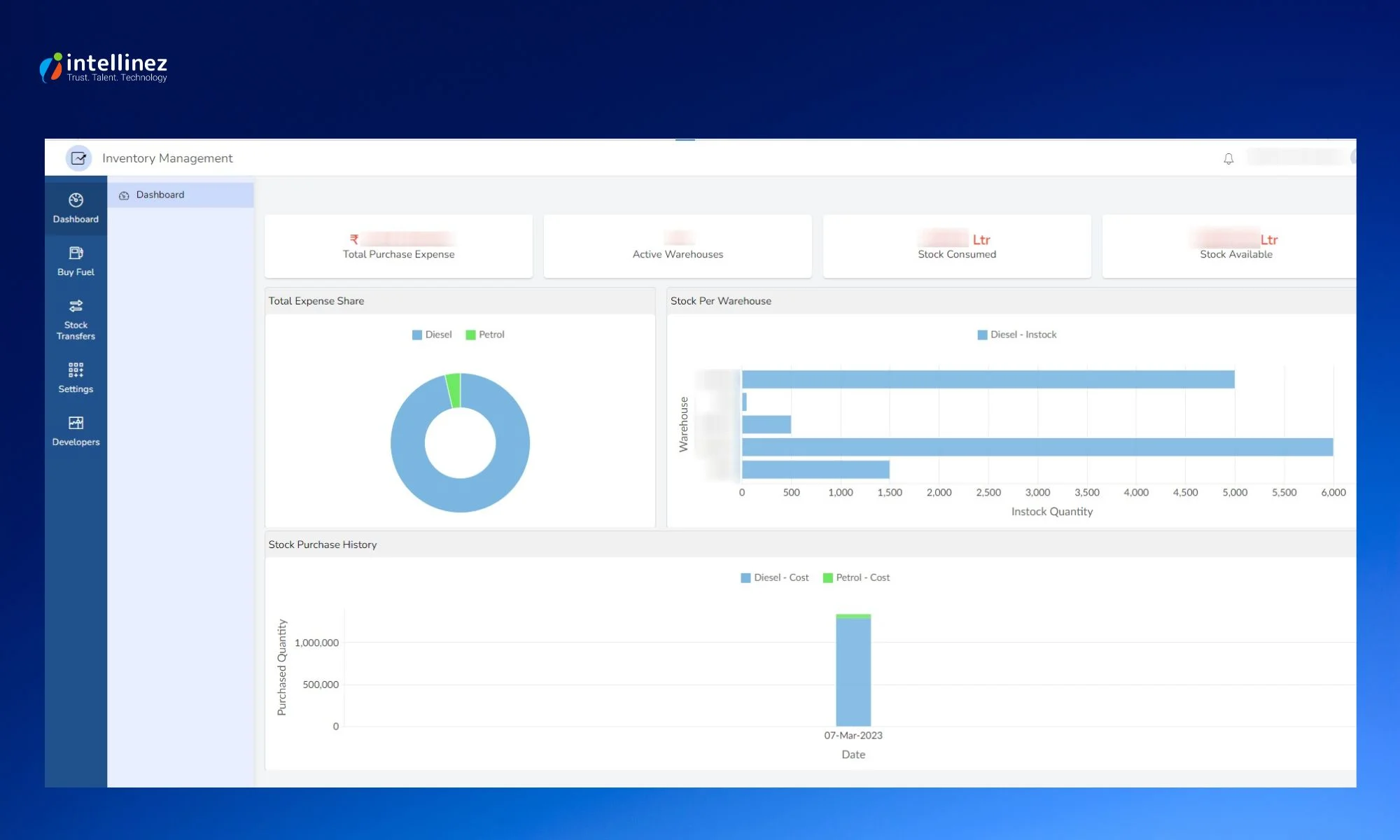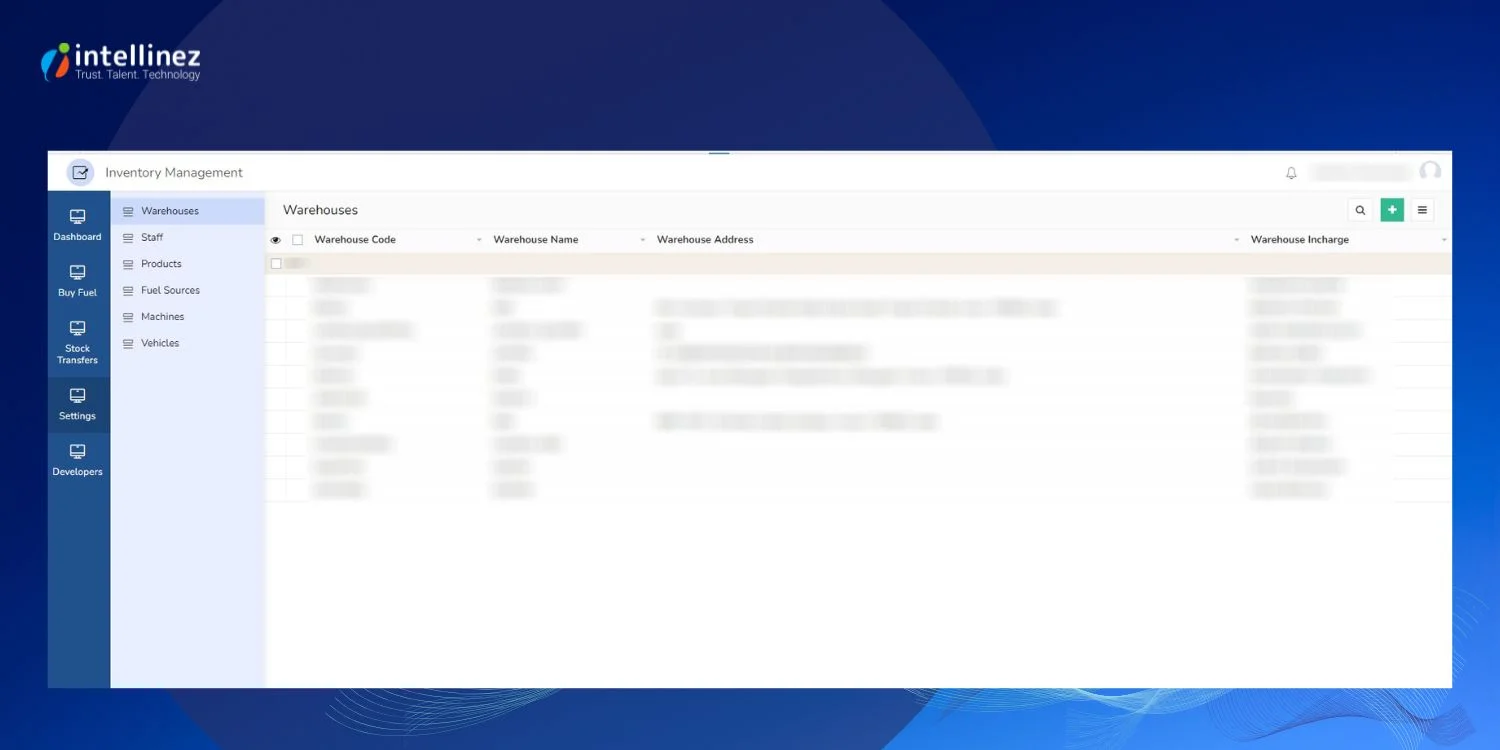 Here are screenshots of the Mobile-friendly Interactive Dashboard: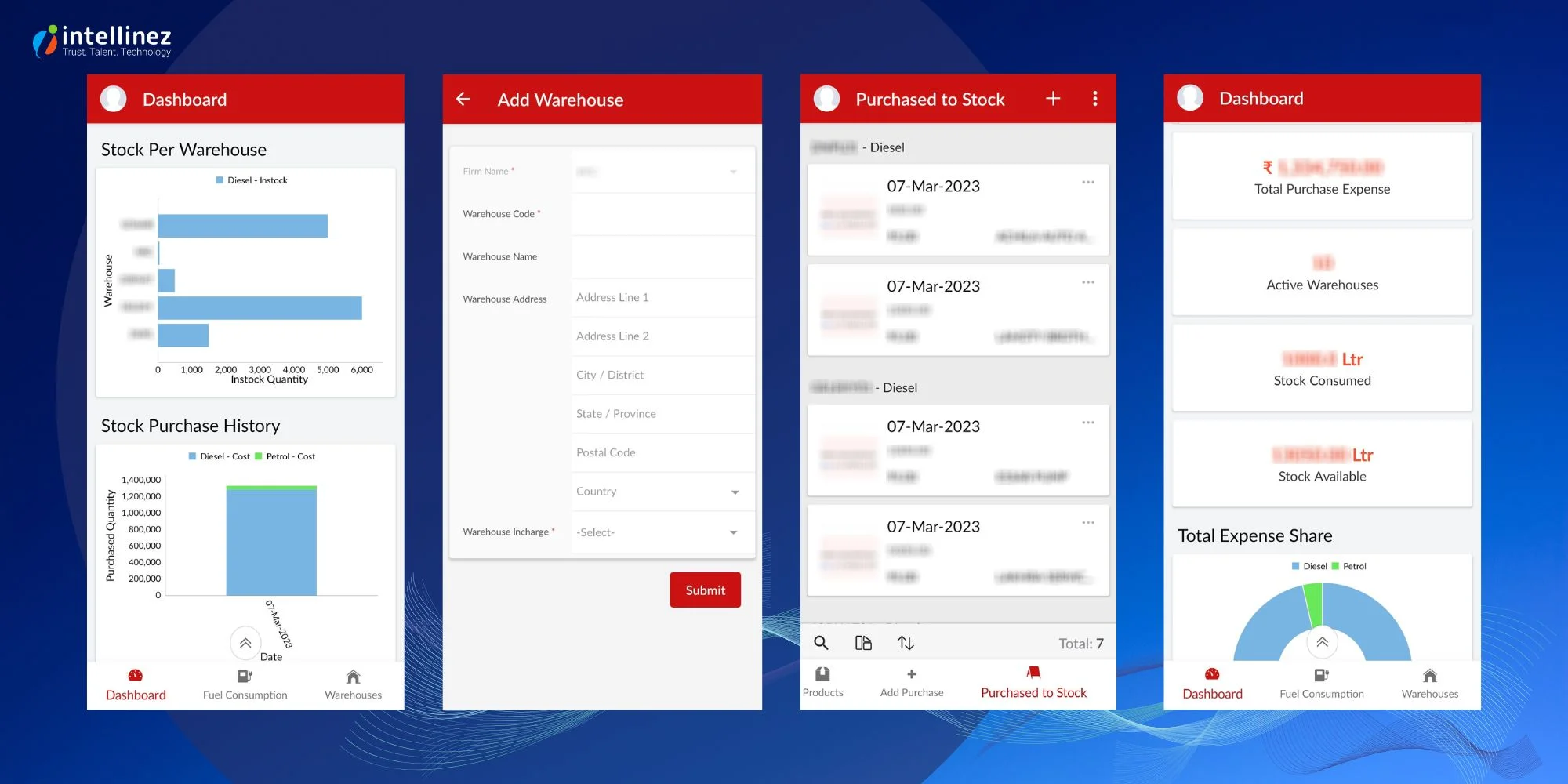 Benefits of Zoho Creator Low Code Platform
Zoho Creator is a low-code development platform that provides a wide range of features and benefits, including:
Customization: Zoho Creator allows users to build customized applications that are tailored to their business needs.
Ease of use: The platform is user-friendly and easy to navigate, with a drag-and-drop interface that requires no coding skills.
Flexibility: Users can modify, enhance, and change applications quickly and easily, ensuring that they always meet their business requirements.
Integration: Zoho Creator offers seamless integration capabilities, allowing users to connect their applications with other software and tools.
Scalability: The platform can handle large volumes of data and users, making it ideal for growing businesses.
Security: Zoho Creator provides robust security features, including user authentication, data encryption, and access control.
Mobile-friendly: Applications developed on Zoho Creator are mobile-friendly, allowing users to access them from any device.
Analytics and Reporting: The platform offers built-in analytics and reporting tools, providing users with valuable insights into their data.
Cost-effective: Zoho Creator is a cost-effective solution for businesses looking to develop custom applications without incurring significant development costs.
Rapid Development: The low-code development approach enables businesses to develop and deploy applications quickly, reducing time-to-market.
Key Takeaways
The inventory management system exceeded expectations and delivered exceptional outcomes.
The software was cost-effective, easy to build, deploy, and manage.
It optimized costs by reducing the resources required to build and maintain the application.
The client embraced digital transformation and increased their agility with the software.
The software allowed them to keep up with market trends and quickly respond to changes, giving them a competitive edge.
The software enhanced the client's experience with a seamless and intuitive inventory management system.
The software's automation capabilities allowed the client to automate processes, freeing up their time to focus on business growth and other critical tasks.
The application was developed and deployed across multiple devices with ease and was iOS as well as Android-friendly.
The software was bug-free and error-proof, tested thoroughly, and optimized for performance, saving the client's time and resources in the long run.
Conclusion
BRC contracted with Intellinez to develop an Inventory Management System for tracking their fuel inventories effectively. The team used Zoho Creator's low code platform, resulting in a robust and user-friendly application completed and deployed within six weeks. The custom application fit the specific requirements of the client resulted in better control over inventory, reduced costs and improved efficiency. The success of the project established Intellinez's expertise in low code development and highlighted the value of low code technology in developing scalable and customizable applications. The client expressed interest in engaging Intellinez for future projects using the low code platform because of the company's ability to deliver solutions in a timely and cost-effective manner. Intellinez remains committed to leveraging this technology to provide innovative solutions that enhance organizational efficiency and achieve business objectives.
Got a Project in Mind?
Get Started Now